A summary of highlights for the ASPREE trial as recruitment phase ends
Thanks to the wonderful support from older members of the community, their families and GPs, ASPREE hit a number of significant milestones as the trial strove towards the recruitment target.
Highlights of 2014 include:
Recruitment
ASPREE reached the recruitment target of 19,000 participants across both countries by December 2014; 16,700 participants are Australian. ASPREE sites achieved new recruitment milestones including:
more than 6400 participants in Melbourne and greater Melbourne
more than 5200 participants in regional Victoria
more than 2100 participants in Tasmania
more than 1000 participants in Canberra
more than 500 participants in Wollongong
almost 1250 participants in Adelaide
Around 45% of Australian ASPREE participants live in regional and rural areas. ASPREE Clinical Trial Centres in Ballarat, Bendigo, Geelong, Traralgon, Warrnambool, Wodonga, Burnie, Launceston and Wollongong drove regional community involvement in the trial.
Melbourne-based research staff support regional areas by regularly travelling to Wonthaggi / Philip Island, Bairnsdale / Lakes Entrance, Sapphire Coast (Merimbula), Wollongong, Shepparton and Mildura to conduct study visits.
More than 2000 GP co-investigators and 955 general medical practices are actively involved in the trial.
Since 2010, ASPREE has phone screened close to 83,000 people for eligibility into the trial (approximately 25,000 calls in 2014) and sent 600,000 letters of invitation (nearly 150,000 in 2014).
In 2014, the ASPREE admin team made more than 90,000 follow-up calls to participants.
The ASPREE Healthy Ageing Biobank team has stored blood samples from 11,900 ASPREE participants. A total of 4500 baseline samples and 2000 third year follow-up samples were banked in 2014.
So far, the ASPREE Healthy Ageing Biobuses have travelled a combined distance of approximately 200,000 kms, enabling older people in regional and rural areas to participate in various sub-studies.
The Biobank team took 2500 retinal photographs at study entry and 277 follow-up year three retinal photographs for the ASPREE-AMD (aspirin and age-related macular degeneration) sub-study.
ASPREE-AMD will be close to reaching 5500 participants by early 2015, assisted by a third RetCam vehicle commissioned in 2014 for the sub-study and clinic visits.
The new ASPREE-Hearing sub-study, which only began in April 2014, has reached >1200 participants, enrolling participants through all Australian sites. ASPREE-Hearing will determine the effect of aspirin on age-related hearing loss.
ALSOP (ASPREE Longitudinal Study of Older Persons) medical and social questionnaires reached a high participation rate. Between 2012 and 2014, nearly 16,000 initial medical and 13,000 initial social questionnaires have been sent to ASPREE participants. In 2014, 6000 follow-up year 3 questionnaires were sent. Approximately 90% of ASPREE participants return the completed forms, providing valuable information to help identify factors that affect healthy ageing.
ASPREE-Fractures (the effect of aspirin on bone fragility and fractures) and ASPREE Anti-Sepsis (the effect of aspirin on severe infection) sub-study data collection began in 2014.
ASPREE-NEURO (the effect of aspirin on microvascular bleeding and other changes in the brain) has enrolled > 500 participants.
Saliva sample and tumour tissue collection is ongoing for ACES (ASPREE Cancer Endpoints Study).
Construction commenced on the new ASPREE cryostorage facility for long-term storage of ASPREE Biobank's biospecimens at the Alfred Campus.
Other
Monash University hosted a CSIRO funded symposium on aspirin and cancer prevention, attracting prominent aspirin researchers from Australia and overseas.
ASPREE hosted 19 study updates this year, meeting around 3000 ASPREE participants and guests from around south-eastern Australia.
ASPREE staff presented to 25 community organisations, such as Probus Clubs and U3A reaching > 1200 older adults in the community.
An NHMRC grant for ASPREE-Fractures began in 2014 and two further NHMRC grants were awarded to ASPREE-NEURO and to ASPREE-Depression sub-studies, to commence in 2015.
A Deafness Foundation grant of $90,000 will be used to collect data on brain changes associated with age-related hearing loss within the ASPREE-Hearing sub-study.
Thank you
The ASPREE study would not be possible without the support and dedication of the ASPREE team (Australia and the USA), GPs and the very generous and willing contribution from all participants.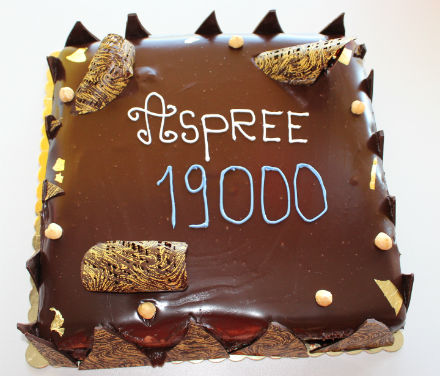 Recruitment numbers are still being finalised. The study will continue to observation stage of the trial until the end of 2017, with early results due 2018.
Updated 21.03.2021