Former ABC Gardening Australia host joins celebration of recruitment milestone
ANNOUNCEMENT
The ASPREE (ASPirin in Reducing Events in the Elderly) study hosted a study update and morning tea at the Windsor Community Precinct on Friday 8th March 2013 to celebrate reaching 400 participants in the Launceston region.
Special guest and Tamar Valley resident Peter Cundall – renowned horticulturalist and former host of the ABC program Gardening Australia – joined 100 local study participants and guests, GP associate investigators and research staff at the celebration.
Professor Mark Nelson, ASPREE Chief Investigator and Chair of General Practice at the University of Tasmania, said the morning tea thanked older residents for their contribution to the world-first trial.
"ASPREE is a landmark study that will, for the first time, determine whether low-dose aspirin can keep older people healthier for longer," Prof Nelson said.
"We are very appreciative that over 400 participants from Launceston and surrounds have embraced this very important public-good study. They are helping to answer a question that will contribute to the well-being of future generations."
Led by researchers at Monash University in Melbourne and the Berman Center for Outcomes & Clinical Research in the USA, the ASPREE trial will recruit 19,000 healthy adults aged 70 and older to participate in the trial – over 16,000 in Australia and 3,000 in the USA.  The ASPREE study aims to enrol over 600 participants from the Launceston region.
More than 10,000 older adults from Victoria, Tasmania, the ACT, regional NSW and Adelaide have signed up for the trial. Of those enrolled in the trial, half are randomly assigned to take 100 mg enteric coated aspirin and the other half a placebo (inactive tablet) daily. All volunteers undergo annual study health checks.
The celebratory update on the project included presentations by Prof Nelson, who leads the trial in Tasmania.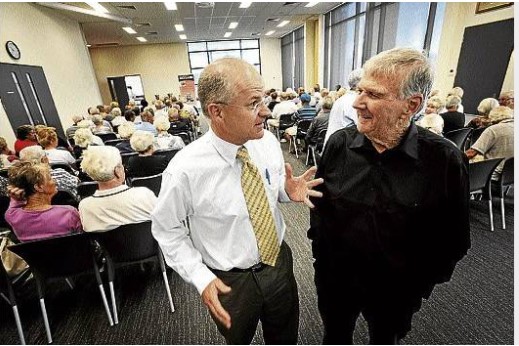 The ASPREE study is being funded by the US National Institute on Aging, with funding support also received from the Australian National Health and Medical Research Council (NHMRC) and the Victorian Cancer Agency (VCA).
For more information on the study, please visit www.aspree.org or call 1800 728 745 (toll free from a landline).
Picture courtesy of the Launceston Examiner. Read the story in the Launceston Examiner.
Updated March 30, 2021