Professor Mike Ernst
Michael E. Ernst is a clinical professor at the University of Iowa (UI) College of Pharmacy Department of Pharmacy Practice and Science. He is a pharmacist and a senior investigator to the ASPREE trial.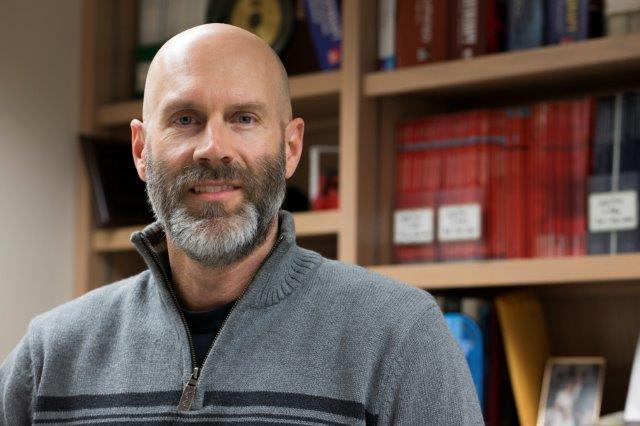 Following announcement of the main ASPREE results, Mike shared his experience of working on the major project.
How did you decide to start or be a part of this research topic?
I had always been interested in being part of a major clinical trial but was not interested in working on drug-company funded trials. I had previously worked on some hypertension-related projects with Richard Grimm, a well-known cardiovascular clinical trialist from the University of Minnesota, and when ASPREE was funded in the US (with him as the main US Principal Investigator ["PI"], he asked me if I would be part of the study. For me, it was being in the right place, at the right time, and knowing the right people. 
I've benefited greatly over the years from interdisciplinary collaborations. ASPREE has perfectly blended my interest in research along with geriatrics.
I originally began in ASPREE as just the site PI here at Iowa, but …  my role gradually increased and I was asked to join the International Steering Committee and International Executive Committee and now am one of the three main U.S. lead investigators for the extension. It's a great example of what can happen if you raise your hand, work hard and follow through.
---
Do you expect "official" guidelines for health care providers to change based on the research?
Yes. Aspirin is a widely used preventative agent for heart attacks and strokes, especially in people who already have existing cardiovascular disease or have had a stroke. However, less is known about its role as a preventative in otherwise healthy older adults, despite the fact that many healthy older adults assume they should take it. Current guidelines from the United States Preventive Services Task Force (2016) acknowledge there is insufficient evidence to make a recommendation for or against aspirin use for primary prevention in adults 70 and older.
"… It makes no sense to take a medication if you are otherwise healthy, if that medication does not help you live longer and remain healthy and independent."
ASPREE was a randomized, placebo-controlled trial conducted in 19,114 generally healthy older adults in Australia and the United States designed to see if initiating a daily aspirin could prolong a healthy independent life in adults 70 and older (65 for US minorities) who did not have a current medical indication for aspirin.
Rather than focus specifically on cardiovascular events as the main outcome like other aspirin primary prevention trials, we were interested in … (whether) aspirin prolonged healthy independent lifespan. … We found [that it did not]. It caused more harm than benefit because it increased the risk of serious bleeding.
Around the same time, ASPREE was published, there were two other studies of aspirin primary prevention in other populations (diabetics, and those considered at "moderate-risk") which also found increased harm with minimal or no benefit.  Collectively, findings from ASPREE and these other trials will likely be incorporated into updated guidelines and I would expect to see much less aspirin use for primary prevention.  
---
How did researchers measure "healthy independent lifespan"?
Information on healthy independent life was assessed throughout the trial via a number of different measures because we were interested in a unique, geriatrically-relevant endpoint: disability-free survival. That was ultimately defined by comparing the rates of death, dementia, and persistent physical disability in those randomized to aspirin compared to placebo over the course of the study.
After all, it makes no sense to take a medication if you are otherwise healthy, if that medication does not help you live longer and remain healthy and independent.
---
ASPREE is very much an interdisciplinary collaboration of individuals with interest and expertise in geriatrics and includes epidemiologists, geriatricians, neurologists, cardiologists, biostatisticians, geneticists, among many in other areas of medicine and epidemiology. 
I am the only pharmacist involved with ASPREE. I think that, along with my broad background in family medicine/geriatrics and research, has enabled me to become involved at a high level in the ASPREE study and able to contribute to many of the different focus areas of the study.
These various analyses are all led by different individuals, but I am fortunate to lead some of them myself in my own areas of interest as well as and collaborate with others.  The exciting thing for me is the discovery of new knowledge, and often generating new questions at the same time.
---
Is ASPREE ongoing?
The work of ASPREE is continuing via an extension (ASPREE-XT), which is planned for 5 more years of observational follow-up of the participants even though the aspirin intervention itself has ended.  While the main findings of the intervention in ASPREE have now been reported, we still have many additional analyses to complete to fully understand some of the secondary outcomes of the study as well as other questions (some directly related to aspirin, and others not as much) that the data collected in ASPREE can help answer the health trajectory of older adults.
---
How have you worked inter-professionally during the ASPREE trial?
We have a great inter-professional working relationship among the study leadership. There are no silos—we are all linked by our common interest in understanding how we can prolong healthy independent life in older adults, and maximizing the value of the ASPREE study to the broader scientific community. Both inter-professionally across disciplines, as well as internationally, the collaborations within ASPREE have been highlights of my career and have helped me grow as a researcher and clinician.  I hope we can continue this work for many more years to come.
Aside from the recent aspirin study, what other research have you been part of that changed healthcare in some way?
I've also done a lot of work in hypertension over the years.
About 10 years ago, we published a novel study comparing [two hypertension drugs] that received a great deal of attention by the scientific community, and probably single-handedly revived interest in the clinical use of chlorthalidone. Despite being an important drug … chlorthalidone had fallen out of favor. People used hydrochlorothiazide … mistakenly because they assumed it was an equally effective drug. Our study found that it wasn't as effective and that chlorthalidone was more potent and effective.
I was also part of Dr. Barry Carter's early ground-breaking studies looking at pharmacist-physician co-management of hypertension, which has paved the way for current hypertension guidelines which now emphasize the need for a team-based approach to caring for patients with hypertension. 
Back then, the idea of pharmacist as immunizer was pretty maverick. … It's a great example of what you can accomplish, even as a student.
Lastly, as a student project while on community pharmacy rotation in Anamosa, Iowa back in 1996, I helped establish one of the first community pharmacy influenza vaccination programs. Back then, the idea of pharmacist as immunizer was pretty maverick, and no one had really done it before.
We established the need for greater access in the community, developed a collaboration with one of the local physicians, and implemented the program asone of the first in the state, if not in the country.
We subsequently published our protocol and results in JAPhA [the Journal of the American Pharmacists Association]. It was one of my first publications, and that process probably helped plant the seed for my future interests in being so engaged in scholarship. While I'm no longer active in the area of immunizations, I like to think that this work helped pave the way for what is now a commonly accepted, and successful, role in our profession. It's a great example of what you can accomplish, even as a student. 
---
Major funding for the ASPREE study in the United States has come from the National Institutes of Health and its branches.
ASPREE would like to thank the University of Iowa College of Pharmacy for permission to reproduce this article here.